Get

29 Extra Templates

For WP Easy Pages
& Save Time Designing Your Lading Marketing Pages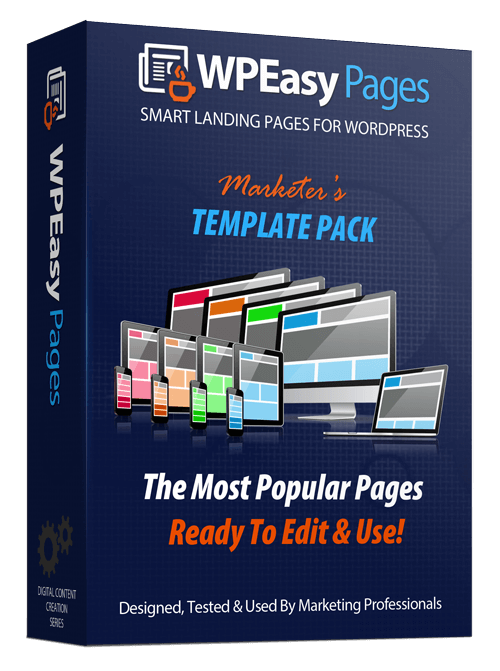 Get Our Maximum... Our Regular Price of

$117

- Offer Ends

Soon
Limited Offer
Please Note This Price Will Rise After The Sale
Template Pack
Use as Per Your Product Original License
Works on WordPress 4.x
29 Templates For WP Easy Pages
Support As per Your Original License
Instant Download
Super Easy To Use
One Time Payment
+Use Fast Action Coupon Code

10off

for Extra

10% OFF

By purchasing this product you agree to receiving marketing emails from John Merrick, David Cassar, Chris Hitman or our companies Cybertactics & Trusted Expert. Your data will not be shared with any third parties & you may opt-out at any time in accordance to GDPR (Europe 2018) & CAN SPAM acts - the law also states that you must unssubscribe & not complain as this can damage our business.
Results from using this product will vary - we've done out best to represent the product fairly we can't guarantee you will replicate the exact same results.
Our Customer Promise
All our products are Evergreen. We promise any product you purchase from us will be available for download for a minimum of 3 years from launch date. The product will never be sold as PLR, MRR, White Label or used as a bonus in future.

Your investment is completely risk free with our 100% product satisfaction policy.
Follow the product training and if at any time you are not completely blown away by your purchase then contact us via our support within 30 days, tell us where you think our product is failing and we will refund your purchase in full. Our voluntary refund policy extends to all requests where customers have actually used our products & can show us a problem with our software or training. Our guarantee does not cover change of heart.